Polyethylene film
Our company sells polyethylene film for various purposes in Chelyabinsk and other Russian cities. In our range of products you will definitely find what you need!
Cloth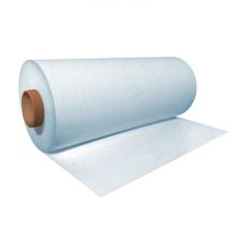 A canvas is a film made in one layer along the entire length. Widely used for packaging of various products. Can have different length, width and thickness, depending on the needs of the customer. In the process of manufacturing a polyethylene sleeve, the latest equipment is used, which guarantees high quality of the products.
Sleeve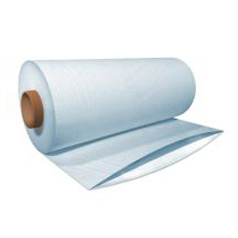 The sleeve is a film in the form of a flexible tube, wound into a roll. This type of product has proven itself in agriculture and construction, as well as in the food industry. The scope of its application is wide enough and is used wherever a strong and transparent packaging is needed, protecting the goods from the external environment. This type of product is also used in the manufacture of bags. Non-fixed length allows you to pack goods of arbitrary dimensions.
Sleeve with rebate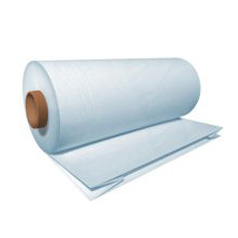 A rebated sleeve is used to package products on pallets. It can be bricks, various panels, and other construction products. Also on the automatic packaging line, it is possible to use robotic manipulators. Such a film is made only from high-pressure polyethylene. The advantage of packing in a folded sleeve is a reduction in time and cost.
Half-sleeve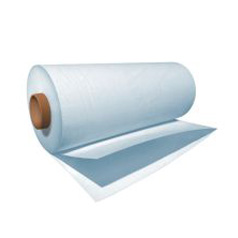 Half-sleeve is a folded cloth, folded into a roll. The field of application is quite extensive. For example, a polyethylene half-sleeve can be used in the food industry for the packaging of bulk products, in agriculture for hiding greenhouses or greenhouses and so on. The undeniable advantage of this packaging material is its availability and low cost. Semi-horn HDPE has good strength and frost resistance.
Tablecloth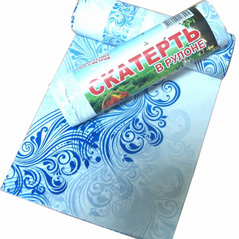 Collapsed in a roll tablecloth with a total length of 5.5 meters and 1.4 meters wide – a convenient option for cottages and picnics. Five pieces in one roll. Easily divided into 5 tablecloths 1.1 X 1.4 meters. on the perforation line. It is made of white polyethylene with ornamentation and decorative border. According to your order, a batch of tablecloths of 10 pieces per roll can be produced. It is possible to make any color table cloth, with any color printing.
Perforated film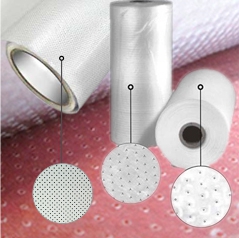 The use of a perforated film not only promotes an increase in the period of preservation of goods, but also guarantees protection from external actions. Small perforations, working as micro valves, ensure hygienic packaging during transportation and storage. When manufacturing, use the hot and cold puncture method. For you, we will individually produce any sizes of film webs with hot and cold, frequent and rare, large and small perforations, taking into account the technical characteristics of your filling machines, which can work at the maximum possible capacity.
Among the producers of perforated films UralPak is the legislator of this production. We were the first in Russia to certify a perforated film for cooking cereals in bags. At the moment we can offer 6 kinds of such a film, including absolutely transparent.
Film for roofing materials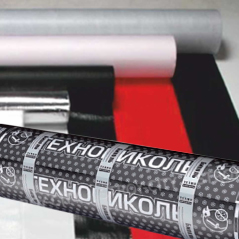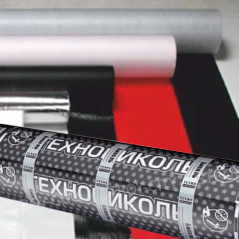 Roofing film – one of the main specializations of UralPak. UralPak is a certified manufacturer of roofing films. The roofing film is produced in black or gray, without a logo or with an intaglio logo, with perforations and without perforations.
The roofing film is produced with a nominal thickness of 0.005-0.010 mm, the maximum thickness deviation is 30%. As agreed with the client, our roofing film can be made of various widths (maximum size 1200 cm). The film protects the roof from the negative effects of moisture.
Polymer film (paper)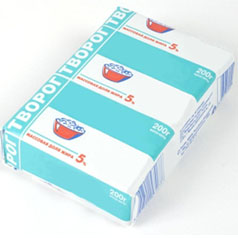 An interesting field of application of melon-filled concentrates is the production of polymeric packaging films such as polymeric paper – films with a high content of fine mineral filler (chalk, talc, dolomite), having sufficient strength, oil and grease resistance, low vapor permeability and well-perceived print.
The resulting film is good for printing, well holds the fold (memory), oil-grease-resistant. The film can be used to pack food products (such as cottage cheese, butter, cheese, etc.) as an alternative to paper and foil.
Film for shoe covers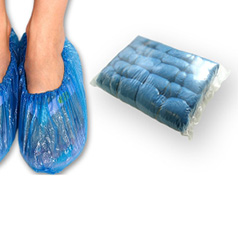 The most common disposable polyethylene shoe covers for visitors to public premises. They are made of different types of polyethylene and special rubber bands. In the case of machine manufacture, a third component is added: the pieces of spunbond at the edges of the shoe cover are welded to hold the elastic band. Shoe covers vary in thickness of the polyethylene film used, quality and type of material, as well as the manufacturing method.
In shoe covers for visitors, a film from 8 to 20 microns is used. Although on boxes with shoe covers from the PRC (in 2009 they occupied 95% of the market) often write not real, but double, with an overestimated thickness. To understand the actual thickness of the film, it is easier to use the weight of the shoe covers. Standard shoe covers of class "20 microns" has a size of 41 * 15 cm, a standard rubber band, weight 2.0 grams / piece.
The material from which shoe covers are made is usually HDPE or PVD. Producers from China often use the material unknown in Russia – chloropolyethylene (CPE), in this case the film is obtained with small pimples, and shoe covers – textured. Also, the quality of the film is affected by the primary or secondary material used in its production.
The reliability of the shoe covers depends on the thickness of the film and the quality of the elastic band elasticity. Depending on the thickness, the covers are able to stand on the leg for 5 minutes to 5 hours.
Thermoresistant paper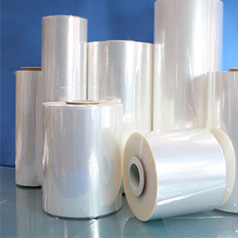 When packaging various types of food products, the main requirement for packaging and packaging is the protection and preservation of the quality of the packaged product for a certain time (until its consumption).
For these purposes, various techniques and methods are used, of which packing is the most widely used in shrink and stretch films, aseptic packaging, packaging in vacuum and in the gas environment, and a number of others.
Shrink films are polymer films that can shrink when exposed to temperatures above the softening point of the polymer. Such films are obtained by stretching the polymeric material in a highly elastic heated state and then cooling.
In engineering practice, it is customary to refer shrink films to films that have the ability to give increased (up to 50% or more) shrinkage and are used for packing various products.
The advantages of packaging in shrink films in comparison with traditional film packaging include a reduction in the volume of packaging due to tight fitting of the goods, a relatively smaller mass of films. Packing in a shrink film is often cheaper and more attractive than a regular cardboard box. This type of packaging gives certain advantages for retail trade: a reduction in the amount of packaging material and the area in the trading floor occupied by the product as it is sold. Packaging in shrink film protects the goods from environmental influences.
Shrink films of low density polyethylene with a satisfactory mechanical strength in the temperature range from -50 ° C to + 50 ° C, easily welded, elastic and inert with respect to most packaged substances and having a low cost were most widely used.
The most modern and qualitative are shrink films based on linear polyethylene. Possessing excellent strength, they, unlike polypropylene films, do not completely deform the product and are suitable for packaging even newspapers and magazines. Due to multilayered films based on linear polyethylene have some barrier properties. They are also distinguished by a wide range of possible storage temperature of the goods: from -80 ° С to + 80 ° С.